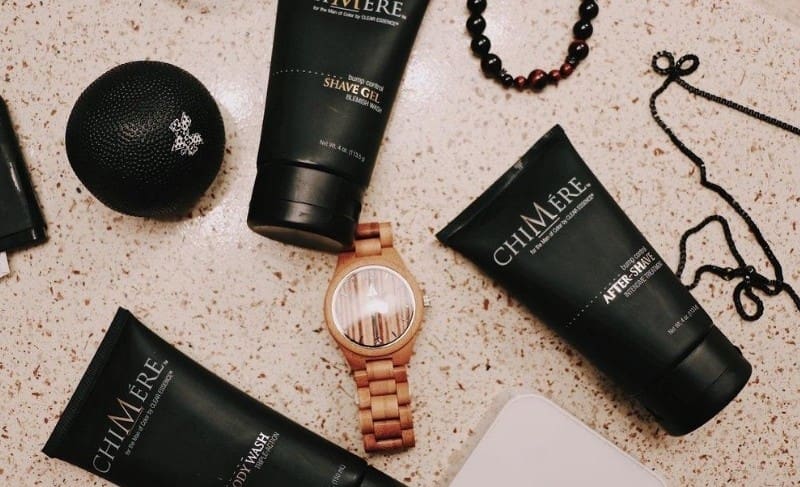 It is often said by medical professionals that your skin is the largest organ you have because it not only serves as a protective layer against the elements, but also breathes and perspires to provide overall temperature control for your body. More importantly, however, your skin often reveals a great deal about your general health and diet through simple observation.
As such, in order to look your best, men's skin care involves more than just proper grooming; it requires an investment in your health and longevity. This involves the use of cleansers to wash away dead skin (along with dust and dirt) as well as the appropriate moisturizers to protect against dryness.
Although men traditionally spend less time caring for their skin than women do, they spend more time damaging their skin through outdoor activities and hazardous work conditions.
This is why ChiMere skin care products for men feature shaving cream to get rid of razor bumps and irritation, after shave to soothe and condition skin and a cleansing bar to refresh and purify skin. ChiMere is the complete grooming line designed for the man of the modern era.
ChiMere Bump Control Cleansing Bar (Normal to Oily Skin)
The ChiMere Bump Control Cleansing Bar for Normal to Oily Skin by Clear Essence, breaks down pore clogging residue and debris leaving skin feeling fresh, clean, comfortable and even-toned.
ChiMere Bump Control Cleansing Bar is formulated to meet the needs of men with blemish scars, razor bumps and uneven pigmentation. It is used for the treatment of acne; deep cleanses to remove dirt, bacteria and oil; exfoliates dead skin cells for a radiant blemish free clear complexion.
ChiMere Bump Control Shave Gel
ChiMere Bump Control Shave Gel, is a triple action shaving crème formula that diminishes the appearance of razor bumps, softens tough beards for a clean shave, controls mild acne, and evens out blotchiness. ChiMere Bump Control Shave Gel moisturizes and softens the hair follicles, which enables a clean straight cut of the hair shaft without leaving sharp edges.
Extra lubrication helps the blade glide along the skin surface smoothly for a perfect shave the first time around. The antiseptic complexes also prevent contamination of shaved areas and control mild bouts of acne outbreaks.
ChiMere Bump Control After Shave Gel
ChiMere Bump Control After Shave Intensive Treatment is formulated with a combination of natural ingredients to smooth, calm and condition the skin, even out the skin tone, and improve the appearance of unsightly razor bumps.
Natural fruit extracts effectively lighten the darkened skin of the shaved area, while gently stimulating the shedding of dead skin cells to diminish razor bumps.
Soothe and moisturize the skin with natural humectants and anti-inflammatory actives.
Fruit acids speed up cell renewal, regenerating a smoother complexion.
Anti-bacterial, anti-inflammatory complexes curb inflammation and reduce irritation, preventing the contamination of newly shaved areas.
ChiMere is a celebration of masculine strength, created to address the unique grooming concerns (razor bumps, dark spots, in-grown hairs) that plague the men with ethnic skin complexions. It is sophisticated, yet simple to use.
Without being too elaborate, ChiMere, provides the necessary treatment draped in the luxuries of its natural and rejuvenating skin care formula. ChiMere delivers the luxury and efficacy that has come to define Clear Essence's men's skin care products.