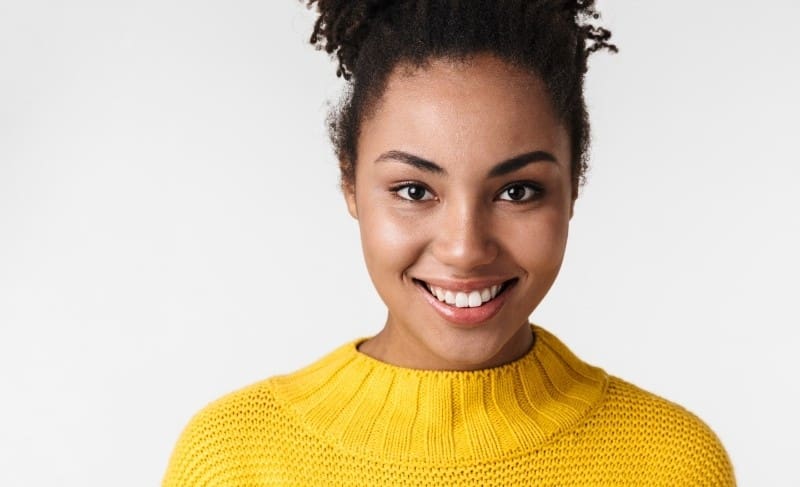 The dream of many women and men is to have fair and flawless skin complexion and the good news is it can be achieved via natural skin lightening treatments. It is rather unfortunate that despite many of us being born with a fair pigment, overexposure to sunlight, poor lifestyle choices, stress, pollution or certain medical conditions have consigned us to having darker skin.
In a bid to restore the skin to its natural bright glow, many people have resorted to using harsh chemical-based cosmetics products that have ravaged their skin and worsened its condition. This article has been put together to guide you through the steps to take to get that natural skin lightening.
Although you need to understand that you won't go from being dark-skinned to looking bright and fair as seen on TV ads that sell fairness creams, however, you can still achieve your natural skin tone that has been subjected to darkening due to several factors like dust and pollution. Stay on this page as we reveal the secrets to brighter skin.
Top Natural Skin Lightening Creams
Before we go deep into the secrets to getting natural skin lightening, here are some recommended natural skin lightening creams. These skincare products have been picked out by our Editors.
They are of top quality and are geared to deliver positive results without harming your skin.
Adure Natural Fairness Creme (4 oz.)
Formulated using mainly plant-based ingredients, Clear Essence Adure Natural Fairness Crème (available in-stores and online) effectively lightens darkened age spots and discolorations from sun damage.
This crème is the perfect skin lightening and anti-aging product you can trust. Its mainly natural ingredients include Vitamin C and licorice extract. Along with alpha-hydroxy acid, Adure Natural Fairness Crème banishes visible traces of aging from uneven skin tone, hyperpigmentation, and fine lines.
The cream has been produced to hydrate the skin, rejuvenate skin cells and prevent its further damage thanks to its advanced sunscreen components. It is perfect for dry and normal skin types and can be applied topically on the face, hands, or body.
Adure Women of Grace Natural Fairness Creme (4 oz.)
With a smooth texture, Adure Woman of Grace Natural Fairness Crème (available only online) instantly nourishes your skin with each application. It has been created using predominantly natural ingredients including licorice extract and Vitamin C.
With its hydrating features, the skin is ideal for dry to normal skin types. In addition, it can be applied topically on the body, hands, or face as a moisturizer for revitalizing the skin and producing an even tone.
The plant-based natural skin lightening cream contains active formulas to correct sun discolorations and lighten age spots. It treats visible specks aging and hyperpigmentation while revitalizing skin cells.
Lastly, it helps in preventing continuous skin damage from UV radiation with its unique sunscreen formula. If you're looking for a natural skin lightener, then try out the Adure Woman of Grace Natural Fairness Crème.
What Is Natural Skin Lightening?
Firstly, it is important to note that there's a difference between skin lightening and skin whitening. Whereas skin whitening aims to give the skin a tone lighter than the one you were born with, skin lightening is tailored at restoring your skin tone back to the one you were born with. To truly understand the concept of skin lightening, let's quickly discuss hyperpigmentation.
According to the American Osteopathic College of Dermatology, Hyperpigmentation refers to a skin condition where the skin gets darkened. Because our bodies are continuously exposed to the sun and thus, these dark patches are formed (on the face, hands, or other parts of the body) as a result.
The darkening is caused when melanin (a brown pigment responsible for giving the skin its color) is released in excess as a measure to protect the skin from the harsh rays of the sun.
As melanin absorbs the sun's harmful UV rays, freckles, as well as other darkened areas become darker with constant exposure to sunlight.
Other causes of hyperpigmentation include melasma spots, acne, and other skin ailments. To be honest, hyperpigmentation is quite harmless. Unfortunately, many people are uncomfortable with how it dulls and disfigures their appearance.
To tackle hyperpigmentation, you'll need to make use of skin lightening products. These treatments are formulated to even skin tone and restore its natural pigment.
To illustrate the fact that your natural skin color may be different from your outward appearance, pull off your top, raise your hand, and take a look at your underarm. The color you see is your natural skin tone.
Stay on this page and continue reading to discover how to achieve this tone all over your body.
Can I Lighten My Skin Naturally?
There are many skin lightening treatments out there but we encourage you to go for the ones made using natural ingredients. They are much less likely to cause uncomfortable skin reactions that could worsen the skin condition.
How to Brighten Skin Naturally
While skin lightening is focused on correcting discoloration and hyperpigmentation as well as restoring the skin to its natural tone, skin brightening has to do with increasing the skin's radiance and glow. To restore vibrancy to the skin through skin brightening, make use of skincare products containing Vitamin C, alpha and beta hydroxy acids, as well as retinol.
Using products containing these ingredients will improve the skin tone and brighten it simultaneously. Furthermore, make use of alpha hydroxy acid and retinol peels. These will help in stimulating collagen production, fade discoloration, even out skin tone and blocks acne formation.
Natural Skin Lightening Remedies
Beauty cannot be defined in terms of tone or color. That, however, doesn't mean you shouldn't take extra effort at lightening your present skin tone. The good thing is you can actually make use of some natural skin lightening remedies to improve your skin pigment.
Also, these remedies are much safer than many commercially available skin lightening products you'd find in local stores which could worsen the skin's discoloration. This section will discuss some of the most effective natural methods of lightening your skin.
How Can I Use Honey to Lighten My Skin?
Composed of a combination of enzyme activity, plant matter, and bacteria, honey is an awesome skin lightener. The components that make up honey makes it quite an effective skincare ingredient. Besides treating acne, honey can help improve autoimmune conditions such as eczema and psoriasis. Raw honey is a potent acne treatment because of its bacteria content that balances effectively on the skin. In fact, according to an Oxford Academic study in 2008, honey can increase healthy skin bacteria by several folds.
Honey is also responsible for upgrading the healing capability of your skin cells while reducing inflammation. Thus, it is an ideal treatment for eczema. Consequently, medical doctors now make use of honey in clinics due to its effectiveness in the healing process.
Exfoliation is important in skin revitalization and with honey, you'll get an all-natural skin exfoliation that will deliver an even healthy glow.
Below are the steps to take when it comes to using honey to lighten your skin. However, note that before getting started, the type of honey you should use is the unpasteurized variant. The reason is that its healthy bacteria can help eradicate inflammation and redness as well as tune-up your immune system.
How to Apply
Whether you have a skin condition or you just want to lighten your skin tone, follow these steps by applying honey to the affected areas or directly on to your face with the use of a face mask.
First, do a patch test by applying the mixture to your arm. If you don't develop any allergic reaction after doing this, then continue to the next step.
Combine raw honey with pure cinnamon and mix them into a paste then slightly warm it.
Take the mixture and apply it topically to the areas you want to treat or on your face using a facial mask.
Let the mixture stay on your skin for about 10 minutes.
Rinse the mixture off your skin using warm water and gently dry the skin surface.
To exfoliate your skin using honey, follow the steps below.
Wipe your face clean
Make a mix of unpasteurized honey and pure water to thin the honey a bit
Take the honey and apply it over your face
For the next 10 minutes, let it remain on the skin
Rinse the mixture off and dry your face
Does Shea Butter Lighten Dark Spots?
Another exceptional skin lightening ingredient, Shea Butter is best known for its ability to lighten dark spots and patches. It is a popular component that you'll find in several skin lightening products. Shea butter is proven to help in improving the texture and tone of aging skin. In fact, it makes the skin appear more youthful and vibrant. Inflammation and soreness on acne-prone can also be treated with the use of shea butter.
In shea butter, you'll discover several skin lightening ingredients including antioxidants, vitamin A, and other inflammatory properties of fatty acids.
If you're going to use shea butter for skin lightening purposes, then avoid using refined shea butter. Rather, make use of raw cold-pressed shea butter. With this, you'll benefit from a high concentration of skin lightening ingredients.
How Do I Use Lemon Juice to Lighten My Skin?
Lemons are great, not just for making lemonade, but also for lightening skin. Lemon contains a high concentration of vitamin C which makes it an immensely potent antioxidant. Hence, with lemon juice, you could treat dark spots, acne damage, freckles, and any other form of hyperpigmentation.
Melanin in the skin can be naturally reduced thereby lightening skin tone thanks to the vitamin C present in lemon juice. Melanin is the pigment responsible for giving color to the eyes, skin, and hair. Large deposits of melanin are released in excess to protect us whenever our skin is exposed to the harsh sun rays. Unfortunately, this excess melanin present in the skin causes dark spots. The good news is lemon juice is an effective antidote for lightening dark spots.
To get started with the natural skin lightener, you'll need to create a mixture of fresh lemon and milk. Rather than use bottled lemon juice, squeeze the juice out of fresh lemons. Bottled lemon is often usually diluted and, in most cases, comes with added preservatives. Thus, using it won't deliver the best results.
How to Apply
Cut out half a lemon and squeeze the juice into a dish or container. Then mix it with an amount of milk equal to the lemon. This should result in a curdle as the milk mixes with the lemon juice. The lactic acid in the milk is great for exfoliating the skin and also fosters cell regrowth. Furthermore, the milk improves water retention in the dermis thereby resulting in a softer skin as the lemon juice penetrates deeper into the skin.
Take a few amounts of the mixture and apply it on a small section of your skin to check if your body develops any allergies.
If no allergies are detected, soak a sponge into the mixture.
In a circular motion, gently massage the mixture onto your skin.
Continue to apply the mixture for the next 3 minutes.
Use water to rinse the mixture off your skin then pat it dry.
If the affected area is your face and you want to apply the mixture there, after massaging it onto your face, leave it on for about 10 minutes and rinse away before patting it dry.
If you notice your skin drying out because of the effects of the lemon juice, be sure to apply a moisturizer.
The mixture should be applied not more than 3 times weekly.
Lastly, remember to use sunscreen after each application of the mixture because lemon juice tends to subject the skin to become more photosensitive. This means the chances of developing redness or inflammation on sun-exposed skin is high. The use of sunscreen solves this problem. Also, if you have a skin injury, avoid using lemon juice on it. Additionally, try not to get lemon juice into your eyes when applying the mixture to your face.
Does Coconut Oil Lighten Skin?
Yes, coconut oil can also lighten skin. It further benefits the skin by lowering inflammation, preventing infections, and guarding the skin against radical damage.
Coconut oil is advantageous to some particular skin types, especially the dry to normal skin types. It contains vitamin F and lauric acid which are perfect for hydrating and protecting the skin while retaining moisture. It can be applied as a night cream before sleeping.
If you want to naturally lighten skin, ensure you use unrefined organic coconut oil. Check the product's label and look out for the words "virgin" or "extra virgin" to be certain. Stay away from liquid coconut oil as its content is created for cooking and thus, might react harshly on your skin.
How to Apply
Pour a tablespoon of coconut oil on your palm then rub your palms together to get a light smooth liquid.
Apply the oil onto your face, neck, and other dry areas of your body.
In the morning, you can remove any leftover residue using a soft tissue.
Try not to get the oil into your eyes. Although it's not harmful, however, it could render your vision blurry.
Does Applying Milk Lighten Skin?
Cleopatra was popular, not just for her beauty, but also for her skincare routine which included regular milk baths. Milk is rich in lactic acid which is an active property in skin lightening. Lactic acid found in milk helps in reducing skin pigmentation. In addition, it does not matter if you use goat milk or cow milk in your quest to achieve a lightened skin. Here are some tips on how to use milk to brighten skin naturally.
How to Apply
Pour the milk into a bowl and warm it using a microwave.
Ensure the skin is clean and dry
Soak a piece of clean cloth into the milk.
Squeeze out the milk from the cloth and leave it saturated enough but not dripping.
Gently massage the cloth onto the areas of the skin you want to be lightened. Replenish the milk on the piece of cloth by dipping it into the milk bowl when it runs out.
When applied daily, you should see visible results of your skin lightening within 3 weeks. After you have achieved desirable results, you should not discontinue the milk treatment. Try to apply it twice a week, at the minimum. Maintaining this routine will help to retain your newly lightened glow.
Milk is also vital in keeping skin moisturized. Along with calcium, vitamin B, and other active antioxidants, it helps in treating free radical damage.
How to Use Yogurt for Skin Whitening
For centuries yogurt has been a popular natural ingredient for skin lightening. Similarly to milk, yogurt also contains lactic acid which helps in improving skin tone. Yogurt can also be used for exfoliation as it removes dead skin, tightens pores, and nourishes the skin. One of the vitamins that make up yogurt is vitamin B12 which has been proven to not only lighten skin but also boost healthy cell growth. Applying yogurt to the skin is also quite easy.
Simply massage adequate quantities of yogurt into your skin every day.
Leave it on the skin for about 20 minutes then rinse with warm water.
How Can I Use Aloe Vera to Lighten Skin?
For natural skin lightening, aloe vera is up there with the best natural treatments. Just like yogurt, it has been used in skincare treatment for centuries. Aloe vera is ideal for soothing wounds and other skin irritations. That's why most people trust its efficacy in the treatment of acne scars which are a result of damaged pores. You'll often see their appearance as discolorations on the skin.
Aloe vera works by reinforcing the body's response to inflammation, thus scar formation is suppressed. This awesome plant can also stimulate and improve the body's production of elastin as well as collagen fibers. These benefits the skin in two major ways. The first is the total reduction in the formation of scars and the second advantage is it initiates lowers signs of aging.
Furthermore, aloe vera is a very effective agent when it comes to fighting off hyperpigmentation in acne scars. Thanks to a compound known as aloesin, aloe vera helps in controlling the excessive release of melanin which results in less appearance of acne scars. Below are steps to take in using aloe vera to lighten skin and correct discoloration from acne scars.
How to Apply
Always purchase non-comedogenic and fragrance-free aloe vera.
Use a cleanser and water first to clean your face.
Rub some aloe vera onto the affected surfaces you aim to lighten
Be sure to cover the areas around the damaged skin you're applying aloe vera on
Leave the aloe application on for about 30 minutes then wash it off with water
Repeat the process twice daily
Top Picks: Natural Skin Whitening Products
As reiterated earlier, skin whitening is a treatment that is targeted at giving you a skin tone lighter than your natural skin pigment. We are all born with different skin tones, some lighter than others. However, not all of us are satisfied with our natural skin color, and thus, we employ the use of skin whitening products.
Trouble is, many skin whitening products on sale out there contain harmful chemicals that can have potentially dangerous side effects despite delivering visible skin whitening. The treatment can even be quite painful at times. Nevertheless, that shouldn't stop you from lightening your skin tone.
If you're going to whiten your skin, it's best to make use of natural treatments or products containing natural ingredients. This way, you not only get the best results, you also care for your skin ensuring it remains healthy and glowy. Below are some natural skin whitening products you can consider trying out.
Clear Essence Anti Aging Skin Beautifying Milk with Alpha Hydroxy Acid (4 oz.)
Ideal for dry to normal skin, Clear Essence Anti Aging Skin Beautifying Milk with Alpha Hydroxy Acid helps nullify any appearance of aging including wrinkles, discoloration, and fine lines.
It has been created using alpha hydroxy acid (AHA) which is a natural exfoliant gotten from extracts of milk and fruits. If you're searching for that healthy and radiant glow using only natural treatments, then opt for Clear Essence Anti Aging Skin Beautifying Milk with Alpha Hydroxy Acid.
Exfoliate, remove dead skin cells and lighten your skin with this unique lotion from Clear Essence.
Clear Essence Exclusive Brightening Facial Masks (5-pack)
Formulated with both hyaluronic and other leading acids, Clear Essence Exclusive Line Brightening Facial Mask is a moisturizing treatment that not only brightens the skin but also evens out darkened skin tone.
The ingredient blend works by disrupting and fighting off tyrosinase enzymes while stunting the overproduction of melanin. This causes a drop in hyperpigmentation as the exclusive formula effectively blocks off ultraviolet rays from the sun.
With its hyaluronic acid, moisture is retained for longer on the skin without clogging pores. This keeps the skin fresh and well hydrated. The facial mask is perfect for all skin types.
How to Naturally Lighten Skin Very Fast
There's a myriad of reasons why your skin can get dulled, darkened, and hyperpigmented. Chief among these reasons is overexposure to sunlight and other external pollutants. However, we cannot hide under our shelters forever just to avoid getting our skin exposed to UV damage. So we brave the elements and step out to complete our daily tasks and thus, end up with darkened skin tones.
In different stores, you can find many types of chemical-based cosmetic products that are touted to help restore your natural skin tone quickly. Although these products come in lotions, creams, serums, etc., however, prolonged use could be detrimental to your skincare goals due to the potentially harmful ingredients that may make up their composition.
If you truly want to lighten your skin while keeping it healthy, then consider doing so using mainly natural treatments. However, note that skin lightening isn't achieved in a single day but if you stick to routine treatment, you'll definitely see positive signs in much less time. Here are things you can do to naturally lighten skin.
1. Use orange peel mask
Applying an orange peel mask can help improve your skin lightening. It is quite easy to prepare.
Simply get some fresh orange peels
Grind them into a mix with cold milk
Take some of the paste and have it spread on your face and neck
Be sure to repeat the procedure two times every week for best results
2. Make a papaya mixture
Ideal for fighting off acne, papaya is home to papain enzymes that help in lightening the skin. Additionally, papaya also acts as a natural exfoliator. To make it:
Get a bowl and squash the papaya into a paste
Apply directly onto your skin
Leave it on the skin for about 20 minutes then wash off with lukewarm water
Do this routine twice daily for the next few weeks until results are visible
3. Massage the skin with olive oil and honey
Another efficient way to rapidly lighten your skin is by massaging it with a mixture of olive oil and honey. The procedure is also easy.
Start by mixing 2 tablespoons of olive oil and a teaspoon of honey
For people with oily skin, add a few drops of lemon juice to the mix
Then massage onto your skin for a few minutes
Cleanse the mixture from your body using lukewarm water
Maintaining this routine daily will lead to a fairer complexion
4. The aloe vera combo treatment
To attain supple, soft, and lightened skin, try using a natural skin lightener like the aloe vera combo treatment. Here's the procedure:
Get a bowl and scoop in 2 teaspoons of aloe vera gel then mix with a half teaspoon of turmeric and 1 tablespoon of honey.
Apply the mixture on your skin.
For 15 minutes, let it stay on.
Using a cotton pad soaked in cold milk, gently wipe off the mixture from your skin.
After wiping off, wash the milk off the skin using sparkling clean water
5. Egg mask skin whitening formula
Egg white is a wonderful agent when it comes to skin lightening. Because of its astringent properties, egg white is just perfect for shrinking pores and tightening the skin. You can naturally lighten your skin using this formula. Follow this process to make the egg mask skin whitening formula.
In a clean bowl, mix 2 teaspoons of cornflour and 1 egg white.
Apply the mixture onto your skin.
For people with acne-prone skin, you should add lemon juice to the mixture to get the best results.
Wash the formula off your skin with fresh water.
6. Natural skin lightening with cucumber
Cucumber is another excellent natural treatment for attaining a lightened tone. When added as part of your routine, it would reveal a glowing skin plus a much lighter tone. To make the preparation follow this procedure:
Blend peeled cucumber slices along with sandalwood powder and a tablespoon of lemon juice.
Apply the mixture to your skin and leave it on for about 15 minutes.
Wash off with water and pat dry.
7. Apply a natural toner twice daily
Using a natural toner means you not only save money but also keep your skin safe from potentially harmful chemicals if you had used non-dermatologically tested skin lightening products. With a natural toner, you can yank off dead skin cells and other impurities from your skin, leaving only a smooth, soft, and toned surface. To make a natural skin toner:
Acquire some apple cider vinegar and rose water
Mix equal parts of the vinegar and rose water in a bowl or container
With a cotton pad soaked in the mixture, wipe your face
After a couple of minutes, rinse off water
Best Practices When Using Skin Lightening Products and Treatments
Indeed, glowing, bright skin is the result of a dedicated skincare routine. In fact, it has to be the very first step you should take in your quest to get a lightened skin tone. So, after getting your skin lightening products and commencing the treatments, you'll need to engage in some practices in order to get the best results. This section covers some of the ideal skincare routines you should maintain when using skin lightening products.
1. Drink water frequently
Surprising, yeah? But it's very crucial to drink lots of water. It helps in hydrating the skin and keeping it radiant. Your body needs to consume at least 2 liters (8 ounces) of water daily to keep it hydrated. Drinking adequate amounts of water not only helps enhance the skin's texture and appearance, it also rids it of toxins. So, gulp more H2O today.
2. Get plenty of sleep
Like it or not, less sleep can negatively affect your skin and face. Obviously, there's a reason why your body requires between 7 to 9 hours of sleep daily. Of course, it needs enough time to rest so that your inner glow can come out.
While sleeping, blood flow to the skin is boosted, allowing you to wake up with a brilliant, healthy glow. However, if you get less than 7 hours of sleep each day, it could dull your skin tone and even cause dark circles to appear on it.
3. Wear sunscreen at all times
To prevent the skin from getting hyperpigmented or discolored, it is imperative to wear sunscreen whenever you step outside. But because ultraviolet rays can still penetrate glass as well, it is also important to wear sunscreen while indoors too.
You can use skincare products that have sunscreen included as part of the make up. Apply it generously on your body. If you're stepping outside, be sure to go with a cap, scarf, or sunglasses to help protect your skin not just from the sun but from pollution and free radicals too.
4. Frequently use moisturizers
If you don't want to develop dry and flaky skin when using skin lightening products, then always moisturize. Do this at least twice daily using moisturizing products or facial oil.
Keep up this routine and you'll see your skin appear more radiant than ever because hydration massively helps in enhancing your skin tone.
5. Engage in skin exfoliation
Every day, dead skin buildup on the dermis and only proper exfoliation can rid the skin of this debris. You can make your own homemade exfoliating pack in a breeze.
Just combine 2 teaspoons of rice powder with a little coconut oil. Now, rub the mixture on your skin to complete the eviction of dead skin cells as you reveal a brighter complexion.
6. Perform facial steams
While using skin lightening products and treatments, you can boost their efficacy by performing facial steams. Rather than use plain water, try this deep-cleansing method of facial steaming.
Boil lemon peels in water perform the steam using this lemon-laced water. After doing this for 2 to 4 minutes, pat your face dry using a soft, damp towel. The lemons' vitamin C content will help improve your skin pigment.
How to Prevent Dark Spots on Your Skin
Sometimes there's nothing we can do to stop dark spots from appearing on our skin, especially if we consider hormonal changes that happen to women during pregnancy that often leads to the formation of melasma.
Regardless of this, there are still a few things we can do to prevent the possibility of dark spots from getting much darker or even forming altogether. You should take note of the following:
Avoid directly exposing yourself to sunlight as much as you can. If possible, do not step out between the hours of 10 am and 4 pm as during this period, UV rays are more intense.
When you do step out, put on a wide-brimmed hat or sunglasses to increase your protection from the sun.
Wear sunscreen with SPF not less than 30. Try to do this every day, including on days when the sun doesn't appear bright.
Skin conditions like acne tend to become inflamed if left untreated. Use top-quality skincare products to treat acne before it leads to inflammation.
Best Natural Skin Lightening Solutions
The fact is many of us are too engrossed in our daily activities to even make out time to mash up homemade natural skin lightening solutions that would greatly help in our journey to brighten our skin tone.
Then there's the headache of making a mess at home with the different natural ingredients you're mixing together. You won't need to go through this painstaking process of achieving a brilliant glowy complexion if you had to use natural skin lightening products.
With the best natural skin lightening solutions, you can get that lightened skin tone and better manage your time.
Best Natural Skin Lightening Solutions by Clear Essence
One really effective natural skin lightener is Adure Natural Fairness Creme. This cream works wonders on dark spots. In fact, it is probably better than any other dark spot corrector out there. It has been created using vitamin C and licorice extracts and formulated to even out skin tone rapidly.
Another product you can take a look at is Adure Woman of Grace Natural Fairness Creme. This product is engineered to not only improve your skin's radiance but also prevents the appearance of new sunspots even when you are exposed to sunny areas. It can also be used as an active formula for treating acne while brightening your skin tone. The cream has a smooth texture and is just perfect for dry to normal skin types.
Clear Essence Skin Beautifying Milk with Alpha Hydroxy Acid is another awesome natural skin lightening solution you can use. The skin beautifying milk is great because it contains alpha-hydroxy acid which is a natural exfoliant that is obtained from fruit and milk extracts. You can use it to gently exfoliate your skin while it treats discoloration, fine lines, and wrinkles. It is the perfect solution for removing dead skin cells off the skin while lightening skin tone.
For a younger, clearer, and smoother skin, take a look at Clear Essence Brightening Facial Masks. The masks have been created to feature a moisturizing treatment that evens out darkened skin tone and brightens it. Clear essence understands that over secretion of melanin is responsible for dark spots, discoloration, and hyperpigmentation.
That's why the brightening facial masks were formulated to thwart the efforts of tyrosinase enzymes, thus, slowing melanin production.
Consider Vitamins for Skin Lightening
There's no question on the relevance of taking care of your skin, obviously, it's the body's biggest organ. One of the best ways to care for it is by limiting your exposure to the sun's UV rays. That's why health professionals always advise us to wear protective sunlight whenever we are exposed to sunlight. However, the sun does have its good sides. According to Healthline, about 15 minutes daily exposure to the sun aids the body in building vitamin D all over the skin.
Getting the right amount of vitamin D can help prevent premature aging on the skin according to Insider. It can even help in the treatment of skin ailments like eczema, psoriasis, and dry skin.
If you're aiming to lighten your skin, you should ensure you take an adequate amount of vitamins. They can not only help in lightening the skin but also keep it looking healthy and youthful.
You'll find essential skin vitamins as pills in supplementary form or even as part of the ingredients in skincare products. Using the right vitamins could lead to a drop in the appearance of dark spots, wrinkles, dry skin, and redness.
Here are some important vitamins you can consider for skin lightening.
1. Vitamin C
Vitamin C is crucial in collagen production. Collagen is responsible for keeping the skin taut and firm and a lack of it can lead to skin sagging and bruising. Naturally, the body can't produce ascorbic acid or vitamin C which is found in citrus fruits and some other foods.
That is why it is necessary to consume foods containing these vitamins. In addition, the Oregon State University notes that vitamin C acts as an antioxidant and shields the skin from getting sun-damaged, and polluted from the daily hustle and bustle of life.
2. Vitamin A
Vitamin A in the skin can guard against sun damage and inflammation. You can derive this vitamin from foods such as spinach, sweet potatoes, pumpkin pie, and carrots. Also referred to as retinol, vitamin A is a fat-soluble vitamin.
When used in topical application, it can help clear out wrinkles and fine lines by stimulating collagen production. It can also contribute to the production of new blood vessels which helps in skin coloration that leads to a healthy, bright, glow.
3. Vitamin E
If you have to spend more time under the sun while still battling to tone out your dark skin, then vitamin E could be what you need. Sourced from almonds, sunflower seeds, hazelnuts, as well as wheat germ oil, vitamin E is a fat-soluble that helps the body by guarding against UV and free radical damage. Vitamin E can also help in speed healing cuts on the skin and reducing external inflammation.
4. Omega-3 fatty acids
Gotten from salmon, herring, chia seeds, flaxseed oil, and English walnuts, omega-3 fatty acids do a great job in lubricating the skin. This reduces dryness and plumps up tissues. They can also aid in strengthening your skin because they help in reinforcing the cell walls.
Omega-3s are also known to lower signs of aging and suppress inflammation while protecting the skin against UV damage. Surprisingly, applying purified omega-3s topically can have a more effective impact on the skin than ingesting supplementary pills or foods containing the vitamin since the liver oxidizes around 60% of it during processing.
Natural Skin Lightening After Pregnancy
As a woman, the process of birthing a new life into the world causes intense physical and emotional changes. Your skin, in particular, takes a lot of hits during and after pregnancy and at times it seems as though its totally impossible to get back that radiant, youthful figure you had before taking in.
All hope is not lost. You can still get your toned body back because none of the changes during pregnancy are permanent. All it takes is a little more care for oneself and a length of time. It is not uncommon for a woman's skin to undergo so many changes after giving birth. Some skin changes may be positive, while others can be downright undesirable.
Some ladies are fortunate to end up with that unique delivery glow for the rest of their lives. Others, unfortunately, suffer dark circles, acne, hyperpigmentation, puffy eyes, and stretch marks. When these skin issues aren't tended to, they could become aggravated and lead to more serious problems like post-childbirth depression.
Post-delivery, self-care is often sacrificed as all the attention is focused on giving special care to the newborn. However, spending just 10 minutes daily to care for oneself significantly goes a long way in helping mothers regain their lost glow and radiance.
Common skin problems associated with pregnancy include melasma, dark spots, stretch marks, acne, dark circles, puffy eyes, hyperpigmentation, and hypersensitivity. Usually, these skin issues fade off after a while but some may require natural skin treatments.
Experiencing darkened skin or acne breakouts after pregnancy is a common occurrence. You can use products made using natural skin lightening ingredients to get your youthful glow back.
Hyperpigmentation
Keep the hyperpigmentation under control by wearing sunscreen regularly or stay away from direct exposure to the sun.
If you have to step outside, wear SPF 30 sunscreen. If you're going to be out for longer hours, wear SPF 50. However, if you're indoors, you can wear SPF 15 sunscreen lotion.
Acne
Get a cleanser and use it on your face 2 times daily
Apply a moisturizer (oil-free) in the morning and at night.
Dark circles and puffy eyes
Maintain a healthy diet
Drink lots of water
Have lots of nap along with the newborn. Your body needs to rest adequately
Get an effective under-eye cream and use before going to sleep
Stretch marks
Stretch marks tend to appear in many women after giving birth. So, as soon as you get pregnant, it's advisable to start making use of oils or anti-stretch mark creams rich in vitamin E on the areas where they are likely to appear. It should be used routinely during and after pregnancy to keep the area of skin in the breast and belly areas free of stretch marks.
Lastly, be sure to drink plenty of water, exercise, and exfoliate your skin regularly to take off dead skin cells. Remember to eat healthy. It helps the skin replenish the lost nutrients it requires to recover fully. In addition, the skincare solutions discussed above may not deliver instant results but over a period, have proven to be quite effective. Coupling these remedies with a great diet and lots of rest can help in fighting off post-pregnancy related skin issues and restoring your radiant, lightened glow.
How to Naturally Get Rid of Scars Forever
Scars can be quite annoying to deal with, particularly if you previously had smooth, blemishless skin. They always pop up whenever the skin gets hit with some form of trauma like major surgery, minor scrapes, or skin ailments like acne.
The good news is there are proven ways you can get rid of them naturally to an extent. However, your lifestyle after ridding your skin of scars will depend if they'll come back to haunt you or stay far from you forever.
Remember that scars are a reminder of your body's attempt to repair skin damage. Thus, it's a natural process of healing for the body and it usually takes a lot of time to complete. Below are natural treatments you can use to get rid of scars.
1. Aloe vera
The gel-like substance found inside aloe vera leaves has excellent therapeutic properties that promote skin regeneration. Little wonder it has been used for centuries to treat wounds and scars. When used on damaged skin, it has an antiseptic and anti-inflammatory effect.
You can apply aloe vera gel directly on the affected skin surface and massage deeply in circular motions. Leave the gel on for about 30 minutes and then wash it off. Repeat this procedure twice daily and stay consistent with the routine. When done consistently, it can clear off post-surgical scars.
2. Sandalwood oil and lavender oil
Essential oils like sandalwood and lavender oil are exceptional when it comes to promoting collagen synthesis. These oils also have antiseptic, astringent, anti-inflammatory, and healing properties.
They can be used to heal all types of scars as they immensely aid the regenerative processes in the body when regularly applied. If you massage essential oils directly onto the scars on the skin and you'll see how it becomes less noticeable gradually.
3. Honey
Honey has fantastic healing properties and can speed up scar healing. You should conceal your scars with honey and bandage them every night before going to sleep. By morning, wash off the honey from your skin. Follow this routine and the scars will fade off over time.
4. Vitamin C
Ideal for acne and surgical scars, vitamin C contains properties that can gradually lower the appearance of scars. Collagen synthesis in the body is aided by vitamin C.
This unique vitamin also promotes skin elasticity while reducing redness, and speeding up healing from wounds. As a result, medical practitioners have advocated for the use of vitamin C in treating several issues relating to the skin.
5. Onion extract
Onion extract-based gels are filled with antibacterial, anti-inflammatory, and antioxidant properties. Thus they are likely to significantly reduce the appearance of scarred tissue when applied topically.
They can be used on burn scars as well as hypertrophic scars. Just apply the gel 3 times daily early during the post-surgical period.
6. Olive oil and coconut oil
Coconut oil and olive oil are natural plant oils that can deliver a ton of therapeutic effects according to PubMed. Capric, lauric, and caprylic acids found in coconut oil aid the healing of damaged skin by stimulating collagen production.
Olive oil, on the other hand, is replete in excellent vitamins that support the healing process of acne scars. In addition, olive oil also keeps the skin hydrated and nourished.
Apply either olive or coconut oil directly on the scar surface and massage it for 5 to 10 minutes daily until you start noticing improvements.
Frequently Asked Questions
Which Cream Is Safe for Skin Whitening
There are several creams promising skin whitening solutions within a short period. What they won't tell you is that the ingredients contained in these products can have harmful effects on the body in the long term. This is because their concept of skin whitening hinges on peeling off the upper layer of the skin; a process that can be not only painful but also destroys melanin in the body.
Having a whitened skin is good but it should not be achieved at the cost of your health. To be on the safe side, use mainly natural treatments to attain your skin whitening dream.
One of the best and safest creams we recommend for skin whitening is the Adure Natural Fairness Creme It can not only smoothen your skin's texture but also evens the skin tone. Dark spots have no place to stay on your face or body thanks to the Adure Natural Fairness Crème.
There's another safe, harmless yet potent cream you can use to whiten your skin. This is the Adure Woman of Grace Natural Fairness Creme. Formulated to be gentle on your skin, the New Adure Natural Fairness Crème is produced to brighten your skin while removing blemishes and discoloration.
It is tough on acne and has a particularly smooth texture. These creams are created to even out skin tone without causing any side effects for you later on.
Conclusion
You can make your skin brighter and radiant without using dangerous chemicals that can pose risks to your health in the long run.
Whether you have dark spots, hyperpigmentation, or melasma, the natural skin lightening remedies discussed in this article can correct them and reveal that lighter, youthful, natural glow hidden beneath your skin.