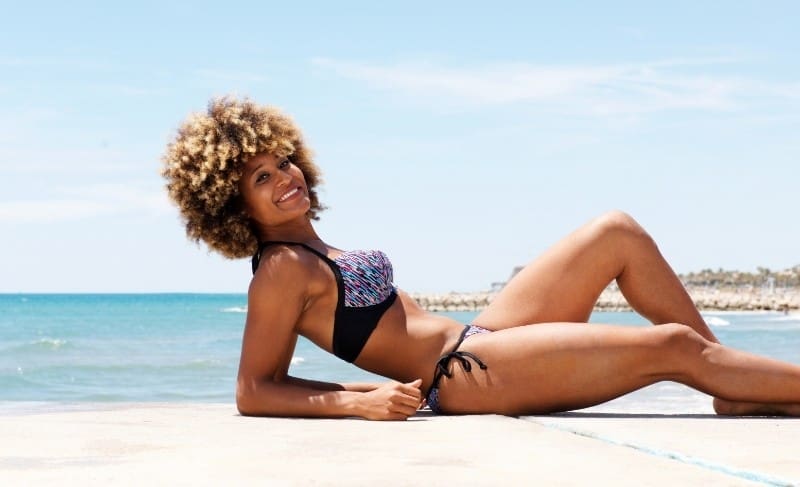 Although there are several varieties of natural skin lightening cream for black skin, many people of color still purchase skin bleaching products that could be potentially harmful to their skin.
It is not uncommon for a black-skinned person to want to lighten their skin color. They do it for different reasons, however, not many know how to select the right lightening cream.
Due to the fact that many top beauty brands produce skin lightening creams and market them aggressively, people of color patronize them without having prior knowledge of the chemicals and other strange ingredients used in making these skincare products.
Thus, they can get that lightened tone at a steep price as many of these products could later have adverse effects in the future.
The best way to lighten black skin is by using natural skin lightening treatments. Natural treatments do not include dangerous chemicals and have zero side effects.
This article will guide you across the concept of natural skin lightening treatments for black skin.
Top Natural Skin Lightening Cream for Black Skin
Many skin lightening products promise to deliver fair skin when used but will not warn you about the dangers involved after applying them.
Below are best and safest natural alternative to treat skin discolorations, hyperpigmentation, dark spots, etc on your skin.
1. Adure Natural Fairness Crème by Clear Essence
Adure Natural Fairness Crème by Clear Essence stands apart from other products. The Adure Natural Fairness cream is perfect for black skin and multi-cultural skin tones of people of color.
It has been produced using vitamin C and licorice extracts which are exclusive natural ingredients that promote skin health.
The fairness cream is well-balanced to easily wipe out skin discolorations from sun damage while lightening age spots. In addition, this cream from Clear Essence not only endows that attractive glow but also helps in hydrating your skin.
It is almost impossible to avoid the rays of the sun which is the bane of many issues in black skin and multi-cultural skin tone, however, this cream comes with sunscreen formulation.
This means you can apply the cream topically and shield yourself from the harmful ultraviolet radiation of the sun.
2. Adure Woman of Grace Natural Fairness Crème (4 oz.)
Your black skin or multi-cultural skin tone can enjoy true nourishment with the Adure Woman of Grace Natural Fairness Crème by Clear Essence.
This topical skin lightening cream has also been formulated with natural ingredients. Laced with licorice extracts and vitamin C, your days of darkened skin are about to be over.
The fairness cream extricates skin discolored from sun damage while revitalizing it with its appealing moisturizing formula. Age spots and dark patches on black skin can be corrected and effectively lightened to perfection.
This plant-based cream also comes with sunscreen properties to protect black skin from further UV damage. The cream also contributes effortlessly in hydrating the skin and keeping it refreshed and glowing.
What Is Natural Skin Lightening for Black People?
In order to get a clear understanding of natural skin lightening for black people, let's first discuss the background of skin lightening.
Skin lightening is a process by which certain materials and substances are used to block or reduce the melanin concentration in the body. According to WebMD, melanin is a natural skin pigment that is found in the body and responsible for giving color to the skin, eyes, and hair.
Everyone has melanin in their body, however, the concentration is much more in black people than other races. Thus, if the melanin released in your body is little, you'll get lighter skin, hair, and eyes. If, on the other hand, the melanin is deposited in excess, then you'll have darker skin, hair, and eyes.
When you're directly under the sun, melanin is released to help protect the skin from the harmful ultraviolet radiation. Unfortunately for black people, melanin is often released in excess which darkens the skin over a period. This usually leads to hyperpigmentation and other skin issues.
Skin lightening helps restore the skin back to its former state before it became sun-damaged. If you look under your arms, you'd discover that the skin tone is much lighter. That is exactly how your skin tone should look like and the main objective of skin lightening.
Natural skin lightening for black people involves the use of organic ingredients or products to lighten dark skin.
How to Lighten Black Skin Naturally Fast
Black skin is naturally beautiful, however, you can still take extra measures to make it glow even more. This can be achieved by lightening the skin. The process of skin lightening doesn't have to be harsh or painful. You need not go through scary invasive procedures or make use of chemically-formulated products to peel off your skin.
There are plenty of natural skin lightening remedies for black skin and multi-cultural skin tones to choose from. These natural skin lightening treatments are not only safe for use but also quite effective.
The bottom line here is that you can lighten your skin without necessarily sacrificing your health and wellbeing. This section will discuss the simple natural ways you can lighten black skin fast.
Do-It-Yourself Tips for Natural Skin Lightening
There are several ways you can lighten your skin naturally without using over the counter creams, here are some helpful tips and tricks:
1. Aloe Vera Oil for Black Skin Lightening
Aloe vera is one of the best natural ingredients you can use to lighten your skin. Over the years, it has been seen as a trusted skincare formula for treating several skin issues including hyperpigmentation.
As a matter of fact, Healthline opines that some peculiar chemicals in aloe vera (aloesin and aloin) may have skin lightening properties. They work by terminating existing melanin cells, referred to as melanocytes, which prevents further creation of melanin in the skin. Thus, hyperpigmentation can be reduced in black skin using aloe vera oil treatment.
Aloe vera can also be used in treating wounds and scars. With melanin suppressed, wounds and scars can heal properly without experiencing skin darkening or discolorations.
It also helps the body in enhancing the production of elastin and stimulating collagen. This leads to a dip in the formation of scars and improves the skin texture against aging.
If your skin is plagued by hyperpigmentation from acne scars, aloe vera may help in clearing it. Aloesin is a compound in aloe vera that holds off melanin release that would otherwise have led to acne scars. You can use aloe vera to lighten black skin via these steps below:
Things you'll need
Non-comedogenic and fragrance-free aloe vera or a fresh aloe vera plant
Facial cleanser
Honey
A clean bowl or container
How to apply
Cut the aloe vera plant and squeeze the gel into the bowl.
Add a few drops of honey to the bowl.
Mix the contents of the bowl thoroughly.
Wash your face and cleanse it with the facial cleanser.
Apply the aloe vera mixture onto the areas of your skin that needs to be lightened.
Let the application stay on for 30 minutes.
Wash off with water.
Perform the process twice every day.
2. Turmeric and Yogurt for Black Skin Whitening
Yogurt is another popular ingredient that has been used in skin lightening treatment for centuries. It contains lactic acid that contributes to boosting skin tone.
Exfoliation is another important aspect in skin lightening and yogurt has those properties. With it, you can yank off dead skin cells, while tightening pores.
Yogurt has vitamin B12 which helps lighten skin and aids healthy cell development. When combined with turmeric, your black skin will spot an unbelievable glow. Curcumin is the top compound in turmeric.
And this active compound helps fight off wrinkles, dark spots, and other unwanted skin blemishes. With this combo, you'd get a double bill of skin treatment encompassing exfoliation and a healthy, radiant, glowing skin.
Things you'll need
1 teaspoon of turmeric powder
1 teaspoon of fresh yogurt
A clean bowl
How to apply
Add both the turmeric powder and fresh yogurt into a clean bowl.
Massage the mixture gently onto the skin.
For about 20 minutes, let it stay on the skin.
Use plenty of warm water to wash the mixture off.
Repeat this routine twice every week.
3. Using Milk for Black People Skin Whitening
Many blacks and people of color believe in the efficacy of milk in skin whitening and for good reason too. The thing is, just like yogurt, milk is also rich in lactic acid, a very powerful agent in skin lightening.
Skin pigmentation can be lowered using lactic acid derived from milk. You could use any one of cow's or goat's milk in your skin lightening journey. What's more, you won't encounter any side effects from using milk in skin whitening.
Milk can also help keep the skin fresh and well-moisturized. Aside from vitamin B and calcium, it also contains several other active antioxidants that rid the skin of free radical damage.
If applied regularly on a routine, you ought to start seeing the results of your efforts in about 3 weeks. However, once you begin to see your skin whiten as desired, do not halt the treatment.
You'll want to maintain this new-found glow, so continue to apply it two times every week at least. You can use these tips to whiten your black skin naturally.
Things you'll need
A warm bowl of milk
A clean piece of cloth
How to apply
Warm the milk with a microwave.
Clean the skin and dry it.
Take the clean piece of cloth and soak it into the warm bowl of milk.
Squeeze or constrict the cloth to stop it from dripping but still well-saturated.
Then massage the cloth on the affected sections of the skin that needs to be whitened.
Dip the cloth back into the milk bowl to replenish it when it runs out and repeat the process on other areas of the skin.
4. Coconut Oil for Natural Skin Lightening
Loaded with vitamin F and lauric acid, coconut oil is a potent natural skin lightener. It can contribute to nourishing the skin by protecting it against infections, inhibiting inflammation, and shielding it against radical damage.
Blacks and people of color with dry or normal skin types will benefit the most from coconut oil. This is because coconut oil comes with certain properties that hydrate the skin and help it in retaining and locking in moisture.
If you're going to use it in lightening your skin, make sure you utilize unrefined organic coconut oil and not the liquid coconut oil produced for cooking which might induce a nasty reaction on your skin.
Thus, when you are shopping for coconut oil to lighten your skin, check for the terms "virgin" or "extra virgin" on the label. Once the pack has those terms on the label, then it's safe for use in natural skin lightening. Coconut oil can be used as a sort of night cream that you'd apply before sleeping.
Things you'll need
Unrefined organic coconut oil (virgin or extra virgin coconut oil)
Soft tissue
How to apply
Measure a tablespoon of coconut oil.
Pour the content onto your palm then rub the palms together.
Apply the light smooth liquid onto your skin.
Be careful when applying the oil to your face. Try to avoid getting some of it into your eyes. While not damaging, it could cause you blurry vision for a period of time.
By morning, use a soft tissue to wipe off any coconut oil residue left on the skin.
5. Using Lemon Juice for Black Skin Whitening
Black skin can be whitened using lemon because of its high vitamin C concentration. Because of its impressive amount of active antioxidants, lemon juice is a potent elixir for eradicating dark spots, freckles, acne damage, and several other forms of hyperpigmentation.
The vitamin C in lemon juice naturally helps in suppressing melanin in the skin. This ultimately leads to a lightened skin tone. When combined with milk, lemon juice becomes even more effective as it lightens, exfoliates, and adds a cracking glow to your skin.
To start using lemon to whiten the skin, you should endeavor to use only freshly-squeezed lemon juice. Avoid using bottled lemon as they're likely going to come heavily diluted and contaminated with preservatives. Using bottled lemon will not give you the skin lightening results you desire.
Things to get
Fresh lemons
Fresh milk
A sponge
A clean dish or bowl
How to apply
Slice the lemons in half and have the juice squeezed into the bowl or dish.
Pour some amount of milk equal to the quantity of the milk. This should cause the mixture to curdle as they come in contact with each other. The lactic acid from the milk acts as a fantastic exfoliating property for black skin. It is also ideal for promoting cell regrowth.
Mix the contents of the bowl and run a quick patch test by applying a very small quantity of the mixture on the skin to test for any skin reactions or allergies.
Once no allergies pop up on your skin, quickly soak the sponge into the mixture.
Now, massage the mixture onto your skin in a steady, circular motion.
For 3 minutes, continue to apply and massage the lemon juice mixture to the skin.
Rinse the mixture with plenty of water and pat it dry.
If you plan on lightening your face, apply the mixture there, and leave it on for 10 minutes. Rinse the mixture off and pat the skin dry.
If the application of the lemon juice dries out your skin, then apply a moisturizer.
This treatment should be applied for a maximum of 3 times every week.
After each use of the lemon juice treatment, always wear sunscreen. This is because lemon juice is prone to make the skin more photosensitive and if left exposed, the skin could develop inflammation or redness when exposed directly to the sun. That is why you'll need to protect yourself with sunscreen creams or lotions. In addition, do not apply lemon juice to your skin if there's an injury or wound on it. And lastly, if you're applying the formula to your face, avoid getting lemon juice into your eyes.
How Can I Use Honey to Lighten Black Skin?
Honey can be used to lighten black skin because of its make up which includes enzyme activity, plant matter, and good bacteria. All of these components make honey a very effective skincare ingredient in general. Eczema and psoriasis are some of the autoimmune skin conditions that honey can help improve.
Raw honey comes with good bacteria content that balances comfortably on the skin. If you want to get healthy skin cells or improve their healing capabilities, then honey is your "go-to guy". It's not surprising that medical doctors recommend it in clinics because of its exceptional healing properties.
To get a truly revitalized skin, exfoliation needs to take place and with honey, your skin can enjoy a relaxing all-natural exfoliating process that will cap it off with a sensational glow.
You can follow the steps below to learn how you can use honey to lighten your skin. To get started, note that you have to make use of unpasteurized honey for the skin lightening procedure.
This is because it's rich in healthy bacteria that can rapidly diminish redness and inflammation while optimizing your immune system. So, whether you want to lighten your skin tone or you aim to correct a particular skin condition, you can go through these steps by applying the honey treatment to the relevant areas of the skin or directly on your face with the aid of a face mask.
Things to get
Raw honey
Pure cinnamon
A clean bowl
How to apply
Add teaspoons of raw honey and pure cinnamon into a bowl.
Mix them together and warm the bowl moderately.
Unpasteurized honey could cause an allergic reaction on some people's skin. So, firstly, do a patch test by applying a very little amount of the mixture on your skin.
If no reaction or irritation occurs on the skin then proceed to apply the mixture to every other section of the skin you want to treat or lighten.
You can use a facial mask if you want to apply it to your face.
Leave the mixture on the skin for 10 minutes.
Wash it off your skin using warm water and dry the skin gently.
Honey can be used to exfoliate your skin through this procedure below:
Wash your face and wipe it is clean.
Add unpasteurized honey into a bowl and pour some water to thin the main content a bit.
You can apply the thinned honey directly onto your face.
Let is stay on your skin for 10 minutes
Use water to wash off the mixture then gently dry the face.
Does Shea Butter Lighten Dark Spots for Black People?
Shea butter is another excellent skin lightening treatment better known for its positive effects on dark patches and spots. As a result of its potency, many powerful skincare companies have added it as an ingredient in their products.
The texture and tone of aging skin can be improved and lightened using shea butter. It makes the skin look more vibrant, younger, and healthy. Black people suffering from acne and inflammation will find joy in using shea butter as a treatment because it rids the skin of soreness and inflammation.
Shea butter is a rich source of many skin lightening ingredients like vitamin A, antioxidants, and multiple inflammatory properties of fatty acids.
If you have to shea butter to lighten dark skin, then do not opt for refined shea butter. Instead, select the raw cold-pressed shea butter variant. This type has a much higher concentration of skin lightening ingredients.
Natural Skin Lightening Products for Black People
Black skin and multi-cultural skin tone have huge deposits of melanin, the pigment that gives them their unique brown or dark color. When this pigment is left unmonitored, it overproduces more melanin than required, especially whenever you're directly under the sun, suffering inflammations or other skin issues. This, in turn, leads to hyperpigmentation and uneven skin tones.
All black people were born with a glowing skin tone. Unfortunately, free radicals and sun damage happen to us, and with our melanocytes that are always releasing more melanin than required, our skins are darkened and dulled.
Many black people have sought to correct this anomaly by getting invasive surgeries that can be quite painful. Others who can't afford the medical procedures have resorted to purchasing different skin lightening products.
While this isn't bad, the trouble is many of these skin lightening products contain potentially dangerous chemicals. They can lighten your skin quite alright, and later mess it up by plaguing it with dark or brown spots. Worst-case scenario, they'll lead to more damaging health problems in the long run.
There's nothing wrong with using skin lightening products when they are produced using mainly natural ingredients. With natural skin lightening products for black people, you never have to worry about developing any side effects on your dark skin or your health in general.
You'll get the same expected result as you would if you underwent an invasive procedure only without the pain. Below is a selection of some powerful natural skin lightening products for black people.
1. Adure Natural Fairness Crème by Clear Essence
If your black skin has been damaged by too much exposure to the sun and you wish to lighten it, Adure Natural Fairness Crème is here to help. Made using purely natural ingredients including licorice and vitamin C extracts, the fairness cream is mild on your skin.
It focuses on skin discolorations and darkened patches that give your skin an unwelcoming look. While keeping your skin soft and tender with its moisturizing effects, Adure Natural Fairness Crème eliminates the appearance of age spots and hyperpigmentation.
One of the best skin health practices is by avoiding direct exposure to the sun or wearing sunscreen. You won't have to worry too much about the effects of the sun on you when you apply this fairness cream. This is because it comes with exclusive sunscreen properties to protect your skin from UV rays.
2. Adure Woman of Grace Natural Fairness Crème by Clear Essence
In your quest to achieve that beautiful, radiant skin, you'll have to make use of the best skin lightening products. Adure Woman of Grace Natural Fairness Crème stands out as one of the most effective natural lightening creams you can use to brighten your skin tone.
Produced using the best organic ingredients, the fairness cream is gentle on your skin as it counteracts against darkened skin surfaces. Adure Woman of Grace Natural Fairness Crème doesn't leave any traces of hyperpigmentation on your skin.
Vitamin C and licorice extracts are the two major ingredients that make up its formation. These natural ingredients have moisturizing properties that rejuvenate your skin and keep it fresh and supple while banishing skin discoloration, dark patches, and age spots needlessly occupying space on your delicate skin.
3. Clear Essence Anti Aging Skin Beautifying Milk with Alpha Hydroxy Acid (4 oz.)
Clear Essence Anti Aging Skin Beautifying Milk with Alpha Hydroxy Acid is an ideal product for lightening black skin. It has been put together using purely natural ingredients. The Anti Aging Skin Beautifying Milk with Alpha Hydroxy Acid is super active against signs of aging, discoloration, and fine lines.
The beautifying milk is perfect for black people and people of color with dry or normal skin. It also doubles as a natural exfoliant as its alpha hydroxy acid content is sourced from the best milk and fruit extracts.
This lotion is excellent at removing dead skin cells and lightening the skin tone. It will not irritate your skin but will rather keep it glowing brightly.
4. Clear Essence Exclusive Brightening Facial Masks (5-pack)
The Clear Essence Exclusive Brightening Facial Mask is formulated to correct all forms of skin discoloration and hyperpigmentation. It has a moisturizing effect on the skin and evens out darkened skin tones.
The facial masks have been produced using tranexamic acid which acts against tyrosinase enzymes that are responsible for secreting excessive melanin.
Consequently, this leads to a reduction in darkened skin, hyperpigmentation, and discoloration as UV radiation from the sun is blocked off.
When moisture is retained on the skin surface, it keeps it attractive, soft, and hydrated. The facial mask's hyaluronic acid content has impressive moisture retention capabilities that won't clog pores. The masks can be used by black people with any skin type.
How to Naturally Lighten Black Skin Very Fast
A lot of black people, aim to achieve that healthy, brighter, and lighter-looking skin fast. The truth is there is that it'd difficult to gauge how long it would take for black skin to lighten.
Although our bodies are the same, each person's skin can lighten quicker or slower than others. However, as long as you learn to properly take care of your skin daily, you can help hasten the speed at which your skin lightens. Here are some things you can do to naturally lighten black skin very fast:
1. Apply sunscreen daily
The sun is a crucial element in our very existence. Unfortunately, it also acts against our complexion whenever we are exposed to its rays. It can cause brown spots, sunburns, freckles, or worse still, skin cancer.
To shield your skin from the sun and protect it against these skin issues, apply sunscreen on the body. Exposing your skin to ultraviolet rays triggers your body into generating more melanin than is required, thus giving your skin a darker complexion.
As a result of this, the best thing you can do for your skin to lighten is to wear sunscreen daily. Be sure to apply it whenever you have to go outdoors and even when you're indoors on hot sunny days.
In addition, you can also protect your skin by putting on apparel that covers your skin. Sunglasses and hats shouldn't be worn just for style. They actually do help in protecting you from the sun's unfriendly rays as well, especially when you'll be outdoors for a while.
2. Keep the skin clean and well-moisturized
Part of attaining a lightened skin fast involves following a consistent routine of properly cleansing and moisturizing the skin. Black skin needs to be cleaned thoroughly at least twice daily.
You can do this in the morning when you wake up and night just before bedtime. When you follow this routine, your skin would be constantly free of oil and dirt that usually invade it every day.
This is very if you aim to achieve a healthy, bright complexion. After your skin is cleansed, you should keep it moisturized with a top-quality skincare product best-suited to your skin type.
Thus, if you have oily skin, you should use lighter lotions, while people with dry skin, on the other hand, can opt for heavier creams.
3. Perform regular skin exfoliation
Exfoliation is the process of removing dead skin cells from the epidermis. Over time, dead skin cells build up on the skin which keeps its surface looking dull and unattractive.
However, when you perform exfoliation regularly, you'll notice your skin getting lighter. This is because the removal of dead skin cells helps the skin reveal a new, brighter skin surface.
Exfoliation can be done using quality skincare products or naturally using remedies like honey or yogurt as discussed previously in this article.
4. Drink more water and follow a healthy diet
Drinking water and eating healthy meals won't automatically transform your skin to a lightened complexion overnight, however, it will help maintain and allow it to rejuvenate itself.
Skin rejuvenation occurs when old, darkened areas of the skin fade off to reveal new, fresh skin. This means your skin will look brighter and healthier.
To hasten this process, you'll need to drink lots of water (about 6 to 8 glasses daily). You also need to have a healthy diet routine. It helps a lot in keeping the skin healthy and fresh as the vitamins needed by the body are distributed to the organs that help maintain it.
Try to include as many fresh veggies and fruits in your daily diet and reduce or totally avoid the volume of processed foods you consume.
You can also add vitamins that can be taken as supplements in your diets, especially those rich in antioxidants like grapeseed extracts. Fish oil, flaxseed, and omega-3 supplements are also excellent.
Dangers Associated with Unnatural Skin Lighteners
There are different ways by which black skin and multi-cultural skin tones can be lightened. It can be done with the use of skin lightening creams or lotions, laser treatment, chemical peels, microdermabrasion, or by ingesting certain pills.
Skin lightening done via invasive surgeries are expensive and time-consuming, making it a very important procedure to consider. To make it worse, the results may not always come out the way you intended.
Thus, you might have to speak to an expert in the field and be sure it is absolutely what you want before rushing into it.
Skin lighteners that have been made using chemicals and other unnatural ingredients come with their risks. In fact, the most popular chemical used in skin lighteners sold in America is hydroquinone.
Indeed, skin lighteners sold over the counter can contain hydroquinone of between 2 to 6%, however, it is very important to consult your doctor before using products made with the chemical.
The FDA recommends a maximum safe dosage of 2% of hydroquinone and all Clear Essence products formulated with hydroquinone strictly adhere to this FDA recommendation.
Risks of Unnatural Skin Lighteners
The United Kingdom National Health Service (NHS) warns of the potential risks of skin lighteners which includes the following:
Premature aging of the skin due to prolonged use.
Risks of skin cancer from the skin's exposure to sunlight usage over a long period of time.
Certain skin lighteners include steroids which can potentially put the skin at risk of infections, thinning, or facilitate slower healing times after suffering from wounds or inflammation.
Steroids being applied to large areas of skin can be absorbed by the body. This leaves you at risk of developing steroid-related health problems.
Hydroquinone can lead to some other forms of untreatable skin discoloration like ochronosis.
Skin lightening products and other bleaching agents can trigger allergic reactions leading to skin breakouts or irritation.
Safety Precautions When Choosing A Black Skin Lightening Product
Speak to your doctor first. You may need to follow some specific instructions from a qualified health practitioner before employing the use of skin lighteners.
Be sure there are no traces of mercury in the skin lightening product. Sometimes, devious manufacturers use tricky names for the term "mercury". Thus, if you come across names like Mercurio, mercurous, mercuric, or calomel, dump the product quickly.
Check the label of the skin lightener and ensure it doesn't have more than 2% hydroquinone volume.
If you check a label and discover that the volume of hydroquinone content it contains is not mentioned, do not assume it's okay to use. Many foreign products have more than the regulated 2% hydroquinone volume allowed in the United States. In fact, some labels might even list inaccurate percentages, so be careful.
If you're not convinced about a skin lightening product you plan to use, discuss with your dermatologist or doctor to be sure it's safe. In fact, your dermatologist might recommend the use of other treatment options like safer natural skin lightening solutions.
Steps When Using Black Skin Lightening Products and Treatments
When using black skin lightening products and treatments, be sure to consult your dermatologist or doctor. They are usually wiser when it comes to making use of skin lightening products.
Thus, you might be advised to follow instructions like these below:
Make use of the minimum amount. This should be used on only darkened areas of the skin once or twice daily.
When using the skin lightener, try as much as possible to avoid it getting into your mouth, nose, and eyes.
You should use a cotton bud to apply the treatment. But if you have to use your hands, then wash them thoroughly before applying the cream and after its application.
For a few hours after applying the skin lightening cream, do not allow the treated areas to come in contact with another person's skin.
Whenever you step outside, always wear sunscreen to protect your skin against the sun's UV radiation. Using skin lighteners leaves your skin unprotected from the sun as its melanin deposit is depleted.
Although many people continue using the treatment for up to 4 months, your doctor might advise you to discontinue it or apply it once in a while.
Preventing Dark Spots on Your Skin – Dos & Don'ts
That smooth, blemishless, and dark spot free skin you've always wanted can be achieved. And you may not even need to peel off your skin in order to attain it.
Here are some truly healthy tips for preventing dark spots on your skin.
1. Cleanse the skin regularly
Do: Always wash the skin and cleanse it every day. Ladies who wear makeup should remember to remove it before going to bed. This gives the skin room to breathe while you rest.
Without wearing makeup, the skin is exposed to dust particles and free radicals daily. Add makeup to this collection of foreign bodies on the face and what you'll get are clogged pores.
These can result in the appearance of blackheads and acne which cause dark spots. So, do clean the skin properly with water and a cleanser or apply olive oil on a cotton pad and massage it gently on the face to wipe off the makeup and other debris.
Don't: Ignore exfoliation. It is very important when exfoliation is performed at least once a week. Exfoliation helps flush out dead skin cells which, if left for too long can lead to the formation of acne.
2. The skin and the sun
Do: Wear sunscreen of SPF 15 at least. It can help bounce both UVB and UVA radiation off your skin. Too much direct exposure to the sun can lead to age spots, wrinkles, and skin discoloration.
To avoid this, protect your skin and apply sunscreen. Make sure the sunscreen you apply doesn't clog pores as the skin still needs to breathe despite the protection. Check the product label and select the ones with the terms "non-acnegenic" or "noncomedogenic".
Don't: Abandon the sunscreen. At times the weather might be cloudy or cold, however, it's not an excuse to skip the sunscreen.
3. Don't underestimate what you eat
Do: Eat more organic foods including vegetables, fresh fruits, and other types of foods replete in proteins and vitamins.
Frequently eating diets rich in vitamin C and much less in fats and sugar promotes a brighter complexion.
Don't: Eat foods that are spicy and fermented. Also, lower the rate at which you consume fried foods, salt, and citrus fruits.
4. Exercise regularly
Do: More exercises like jogging, running, brisk walking, and yoga. Exercising regularly helps promote the necessary blood circulation required in speeding up the cleansing of the body through sweat.
If you take note, you'll observe a unique glow on your face after an intense workout session.
Don't: Omit skincare before and after workouts. You can apply a toner to help limit the body's oil production before exercising.
Also, remember to exfoliate after working out and moisturize the skin with olive oil or shea butter.
5. Sleep more and glow
Do: Sleep for 7 to 8 hours every night. After a long day, it only makes sense to enjoy a lengthy night's rest. If you do not sleep enough, your skin will be subjected to tiredness and sagginess.
You can also treat your skin well by applying honey to your face three times a week. This helps in healing and soothing the skin.
Don't: Forget to cleanse your face and keep it moisturized before hitting the sheets. If you have dry skin, use alcohol-free cleansers.
In addition, avoid using hot water to wash the skin since it can cause it to dry out excessively. Use lots of moisturizers.
6. Drink enough water
Do: Keep yourself hydrated by drinking enough water daily. Our bodies use up a lot of water each day so it is crucial we keep it constantly hydrated by taking as much as 8 glasses of water daily.
You can also eat fruits that have high water content like oranges, watermelons, cucumbers, cantaloupes, strawberries, and grapefruits. Drinking lots of water helps keep the skin healthy, soft, and supple.
Don't: Take alcohol. If you can't avoid it, reduce your intake of it to the minimum. Alcohol intake causes dehydration and makes your body lose more water.
When you drink alcohol, your pores appear more visible and the skin develops wrinkles. Your skin loses its natural fullness and glow.
7. Bounce acne
Do: Treat acne and prevent them from becoming inflamed. Use warm water to wash your face up to 3 times daily. Massage your face with cleansers containing either alpha hydroxy acid or beta hydroxy acid. Pat the skin till it dries and apply an antibacterial lotion that contains benzoyl peroxide.
Don't: Pop your pimples. It doesn't solve the acne problem but rather makes it worse by causing scarring, redness, or even swelling. Instead of popping the pimples, just clean the area using rose water then get a cold green tea bag and place it on the acne for about 10 minutes.
8. Engage in healthy habits
Do: Take time out to relax and have fun. Avoid stress as much as possible as it can often lead to more breakouts on your face. When you're stressed, your body is triggered into producing cortisol and other hormones.
This results in the skin becoming more oily. Learn stress management techniques such as meditation, yoga, and exercises. You radiate more when you meditate.
Don't: Ignore your jawline and the muscles on your face. They require massage and exercise too. You can spend 5 minutes of your day in working them out.
You can exercise your facial muscles by looking up to the ceiling and pouting. This action stretches the muscles and strengthens its firmness.
Best Natural Dark Skin Lightening Solution for Blacks
Your black skin deserves to be lifted with an attractive glow. You can achieve this with the aid of skin lighteners. However, you need to be wary of skin lightening products with potentially harmful components.
To be on the safe side, you should just opt for products made using natural ingredients.
Natural skin lighteners are gentle on you and hardly come with any side effects. Most of them are even quite low-priced and affordable. Clear Essence has some of the best collection of natural dark skin lightening solution for black skin.
For instance, the high-quality natural ingredients contained in Adure Natural Fairness Crème is very active on sun-damaged skin discolorations. The Adure Woman of Grace Natural Fairness Crème, on the other hand, delivers a unique youthful glow on black skin while keeping the skin soft and elastic. It also keeps your skin safe from the radiation of the sun with its sunscreen formula.
Meanwhile, you can also check out Clear Essence Anti Aging Skin Beautifying Milk with Alpha Hydroxy Acid. This product naturally lightens the skin while revitalizing it with its exfoliating properties that take out dead skin cells. It should be top on your list if you're thinking of smoothening out wrinkles and fine lines.
Don't let hyperpigmentation define your appearance. Get Clear Essence Brightening Facial Masks and even out your skin tone today. The brightening masks come loaded with tranexamic and hyaluronic acids which are responsible for stunting melanin overproduction and keep moisture retained for longer in the skin respectively. This keeps your skin fresh, soft, and brightened.
How to Naturally Get Rid of Hyperpigmentation
Pigmentation is basically the coloring of the skin. Therefore, hyperpigmentation is a situation where the skin is discolored. Melanin is the pigment that provides color to the skin.
When too much melanin is released in the body, it often leads to hyperpigmentation. When this happens, your skin darkens and it can affect sections of your skin or the entirety of it. Liver spots, popularly referred to as age spots, are a common form of hyperpigmentation.
Hyperpigmentation is totally harmless but many people see it as a cosmetic issue. Thus, they take several measures directed at treating the condition. There are different ways to treat hyperpigmentation, however, this section will cover only some of the natural ways to get rid of it.
1. Green tea extracts
According to PubMed, green tea extracts can be used to correct hyperpigmented skin.
Boil a green tea bag for 5 minutes.
Take out the tea bag but don't apply it yet until it cools.
Gently rub the tea bag all over your discolored skin.
Repeat the process twice daily until you start noticing results.
2. Aloe vera
Aloe vera contains a compound called aloin which can help treat hyperpigmentation. This compound is believed to have skin lightening properties.
Obtain fresh aloe vera gel from the plant.
Apply it on the areas of hyperpigmented skin before sleeping at night.
Wash the area of skin in using warm water in the morning.
Do this every day until the skin tone evens out.
3. Apple cider vinegar
Rich in acetic acid, apple cider vinegar is another natural method of treating hyperpigmentation in black skin.
Get a bowl and mix equal parts of water and apple cider vinegar.
Use a clean piece of cloth and apply the mixture to the dark patches of the skin.
You can leave it on for about 2 to 3 minutes.
Wash off using lukewarm water
Perform the procedure twice every day until you attain your normal pigment.
4. Milk
Milk has huge deposits of lactic acid which is a powerful ingredient for lightening skin discolorations. Even buttermilk or sour milk has the properties that can be used in correcting hyperpigmentation.
Pour the milk into a bowl.
Take a cotton pad and soak it in the milk.
Apply it over the hyperpigmented skin patches two times a day
Do this daily until the results begin to improve.
Frequently Asked Questions
What Is Skin Whitening?
Skin whitening is a procedure where the skin is given a much lighter appearance than its natural pigment. The process often involves termination of the melanin pigment present in the skin. Melanin colors the skin.
What Is Skin Brightening?
Skin brightening could mean several things to different skincare brands. Generally, it is used to describe the process whereby melanin production in the skin is halted. This allows the skin to have a much lighter or brighter color than it was previously.
What Is Skin Lightening?
Skin lightening is a much milder way of improving the skin's radiance. The process involves lowering or reducing the production of melanin in the skin.
Rather than give the skin a new, intense whitening effect, skin lightening helps restore the natural pigment of the body back to the way it was when you were born.
Everyone was born with brilliant, glowing skin but as we got older, the skin gets exposed to several elements like the sun's radiation and free radicals. With skin lightening, however, you get a shot at resetting your skin back to its default setting.
What is Melanin?
Melanin is the pigment that determines our skin, eyes, and hair color. Melanocytes are the cells the generate melanin in the body. For some reason, black people appear to have more melanin deposits in their skin than fairer people.
Melanin is not only important for giving us our pigment but also protects our skin against sun damage when we are exposed to UV radiation.
Whenever we are outdoors under intense sunlight, the melanocytes are triggered to produce more melanin as a result of the exposure. This causes the skin to darken more and can lead to several other skin issues like hyperpigmentation.
What is Hyperpigmentation?
Hyperpigmentation is a harmless skin defect where some areas of the skin get darkened which causes discoloration. It can be caused by sun damage, hormonal imbalance, acne scarring, or even reaction to some drugs.
Hyperpigmentation can be treated in several ways but we recommend using natural treatments or products containing mainly natural ingredients to correct the discoloration.
What is Hydroquinone?
Hydroquinone is a controversial skin lightening agent that can be used to whiten skin tone. It is quite effective when used in treating several forms of hyperpigmentation.
On the flipside, hydroquinone has also been fingered as being a chemical that could be potentially harmful to the skin when used for a prolonged period.
Is Hydroquinone FDA Approved in the USA?
Although the FDA did propose restrictions on products containing hydroquinone in the United States of America back on August 29, 2006, those restrictions are yet to be enforced.
This doesn't mean that hydroquinone has been approved for use in the US though. Its safety profile is still undefined and that's probably why it remains banned in Japan, Australia, and the European Union.
However, the FDA has recommended that products containing 2% hydroquinone can be considered safe for use. Clear Essence's skincare products containing hydroquinone strictly adhere to FDA's recommendation.
Does Aloe Vera Take Long to Lighten Skin?
Aloe vera has a compound that can help treat hyperpigmentation and lighten the skin. While there's no specific timeframe for how long it would take it to lighten skin, you should continue to follow the treatment until you begin to notice signs of improvement in your skin tone.
Effectiveness of Aloe Vera on Hyperpigmentation
Aloe vera is quite very effective in treating hyperpigmentation and is highly recommended by us. It contains skin lightening components that naturally brightens skin tone without any side effects.
How Long to Leave Yogurt on Face?
Yogurt helps lighten skin with its lactic acid content and vitamin B12 component that promotes healthy cell development. When applied to the face, you should leave it on for about 20 minutes and then wash off with clean water.
Does Raw Milk Whiten Skin?
Raw milk contains lactic acid which is a potent agent in skin whitening. It can be mixed with honey and lemon juice to form a truly natural skin whitener.
Best Natural Skin Lightening Cream for Hyperpigmentation
Hyperpigmentation discolors our natural look and gives us a strange, darker pigment. You can correct this skin defect by following the natural remedies discussed in this article. But for a more convenient and stress-free way to treat discoloration, Adure Natural Fairness Crème by Clear Essence should be considered. This product contains some of the best natural ingredients for correcting hyperpigmentation and other skin blemishes.
Another highly effective cream you can use to naturally lighten hyperpigmentation is Adure Woman of Grace Natural Fairness Crème by Clear Essence. It has also been created with natural ingredients and can counteract against acne while delivering a pleasantly smooth skin texture.
These skin lightening creams have the best effect against hyperpigmentation and will benefit black-skinned people looking to restore that glow and radiance.
Final thought
The black skin and multi-cultural skin tone are prone to get darkened and discolored due to several factors. While there are many skin lightening products you can use to treat hyperpigmentation, you should try to lighten your skin using natural products or remedies like the ones discussed in this article.
If you're not particularly excited about mixing and jumbling different organic ingredients, then try to purchase natural skin lightening creams for black skin.