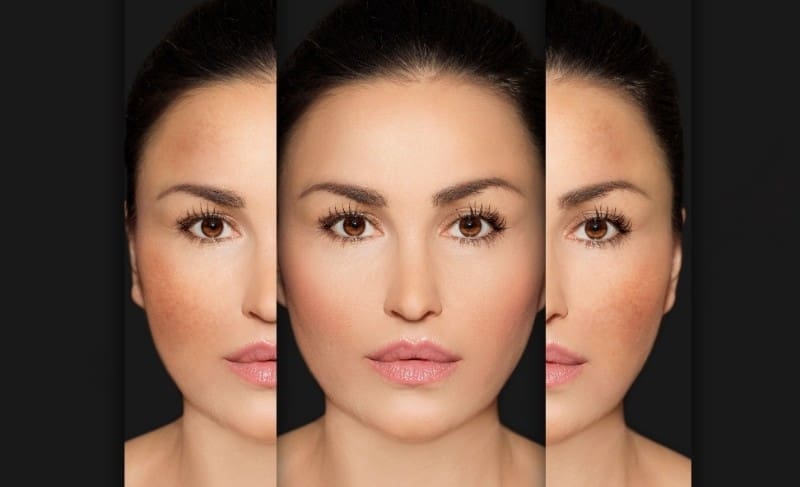 Melanin, according to an article from the University of Murcia in Spain,  comes from the Greek melanos, meaning dark pigmentation.
General speaking, we can define melanin as a pigment that melanocytes cells produce. The pigmentation comes in various shades depending on the genetic makeup of each individual. So far, we have defined what melanin is.
Now we will discuss how this pigment works.
Factors Affecting Melanin (Dark Pigmentation)
Individuals have the same number of these cells (melanocytes). However,  there are different factors affecting the production of melanin.
Exposure to UV radiation
Melanin is produced to protect the skin from the UV rays. People who are exposed more to the sun produce more melanin as a result.
Genetic Makeup
Due to inheritance, different ethnicity are genetically predispose to produce different shades of melanin.
Size of Melanocytes
Each individual is different and so are the size of their melanocytes. This could leading to a difference in the amount of melanin production.
Disease Conditions
There are some diseases that can affect the production of melanin such as albinism and vitiligo, reducing the production of melanin.
Absence of Melanin
The absence or abundance of the production of melanin can significantly affect an individual's skin. The production of melanin is key for the prevention of skin cancers such as melanoma.
This means the skin becomes darker and darker when exposure to the sun increases. And this occurs for the majority of individuals, yet no all of them. Therefore, it is critical for us to educate our beloved customers on this subject. So they can take precautions to protect themselves. 
Final Thoughts
This matter is of importance to us since Clear Essence Cosmetics specializes in the treatment of dark spots, discoloration, and hyper-pigmentation.  In the majority of the cases, this result from the variation of the production of melanin. The company offers different products for all skin types. Our main objective is to correct skin problems unique to people of color.